Verum Cacao Energize
Regular price
11,98
Sale price
11,98
Unit price
per
Sale
Sold out
A natural combination of coffee and cocoa. Feel one with the earth thanks to our Verum Cacao Energize. The perfect alternative for your coffee moment, both at the office and at home. This power drink full of superfoods and vitamins is available in sachets and is therefore ideal to take with you.

Available per 20, 40 or 60 sachets.
What do you need?
1 sachet Verum Cacao Energize (7 grams)
150 milliliters milk

Our tip:use almond milk for a sweet undertone
What ingredients are in this product?
Agaricus Blazei Mushroom, Alpinia galanga, Cocoa, Coconut Palm Sugar, Cinnamon, Ginger, Ashwagandha Plant Extract, Rhodiola Rosea Root Extract, Zinc Citrate, Vitamin B3, Vitamin B6, Vitamin B9, Vitamin B12, Vitamin C, Natural Flavors:Coffee & Chocolate

When at home?

On your doorstep within 1-3 working days
Unsatisfied?

Our product is not quite to your liking. Damn. Mail your story to hello@verumdrinks.com and we'll be happy to help your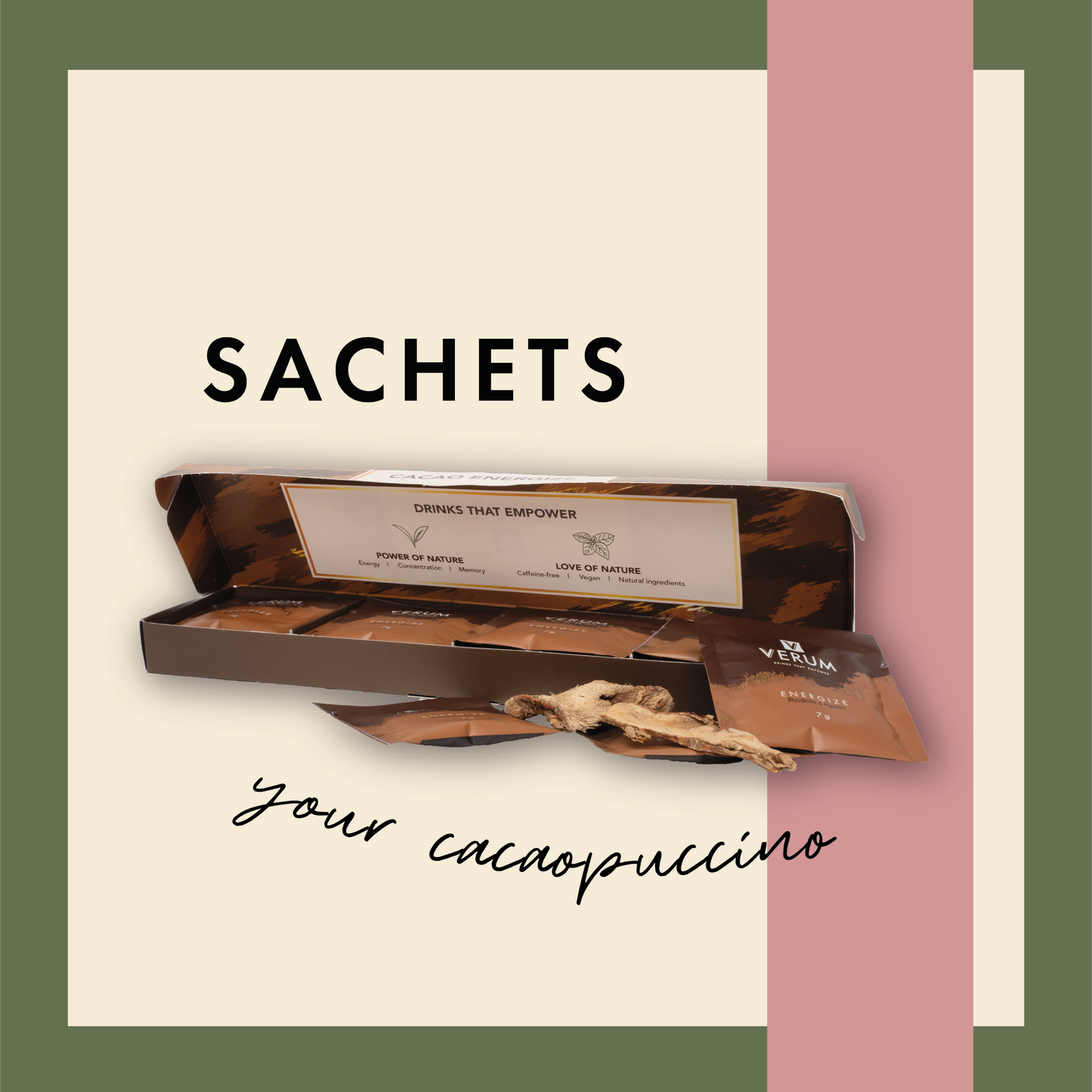 Sophie

The decaffeinated Verum Cacao Energize is delicious and healthy. My favorite in combination with almond milk. The sachets easily fit in my bag, so I can also enjoy the office! Happy egg.

Cindy

Really insanely delicious! I'm all over! Having a blast in the morning, good for the internal system with all the vitamins & superfoods and also good for nature. Awesome! †

Esme

I've been drinking the Dély Energize from Verum for a while and I'm more than enthusiastic. Because I don't drink caffeine anymore, but I still get a boost, I feel very energetic lately. Definitely recommend!